Walking into Liza Borenstein's Youngsville home, I noticed she had an assortment of colorful ingredients on the counter, ready and waiting to be transformed into something special. The Borensteins moved to Louisiana a year ago from Tel Aviv.
We chatted as he provided some background on the origins of shakshuka (pronounced shack-shoo-kuh). What awaited us was a traditional Middle Eastern breakfast or brunch, with some Mediterranean influences.
The literal translation of shakshuka means "all mixed." The dish is made with poached eggs as the centerpiece, but it starts with the creation of a delicious sauce of tomatoes, onions and finely chopped peppers. Usually, a variety of spices are used to season the sauce. Borenstein adds spices for the feel, and his family enjoys this dish with a kick.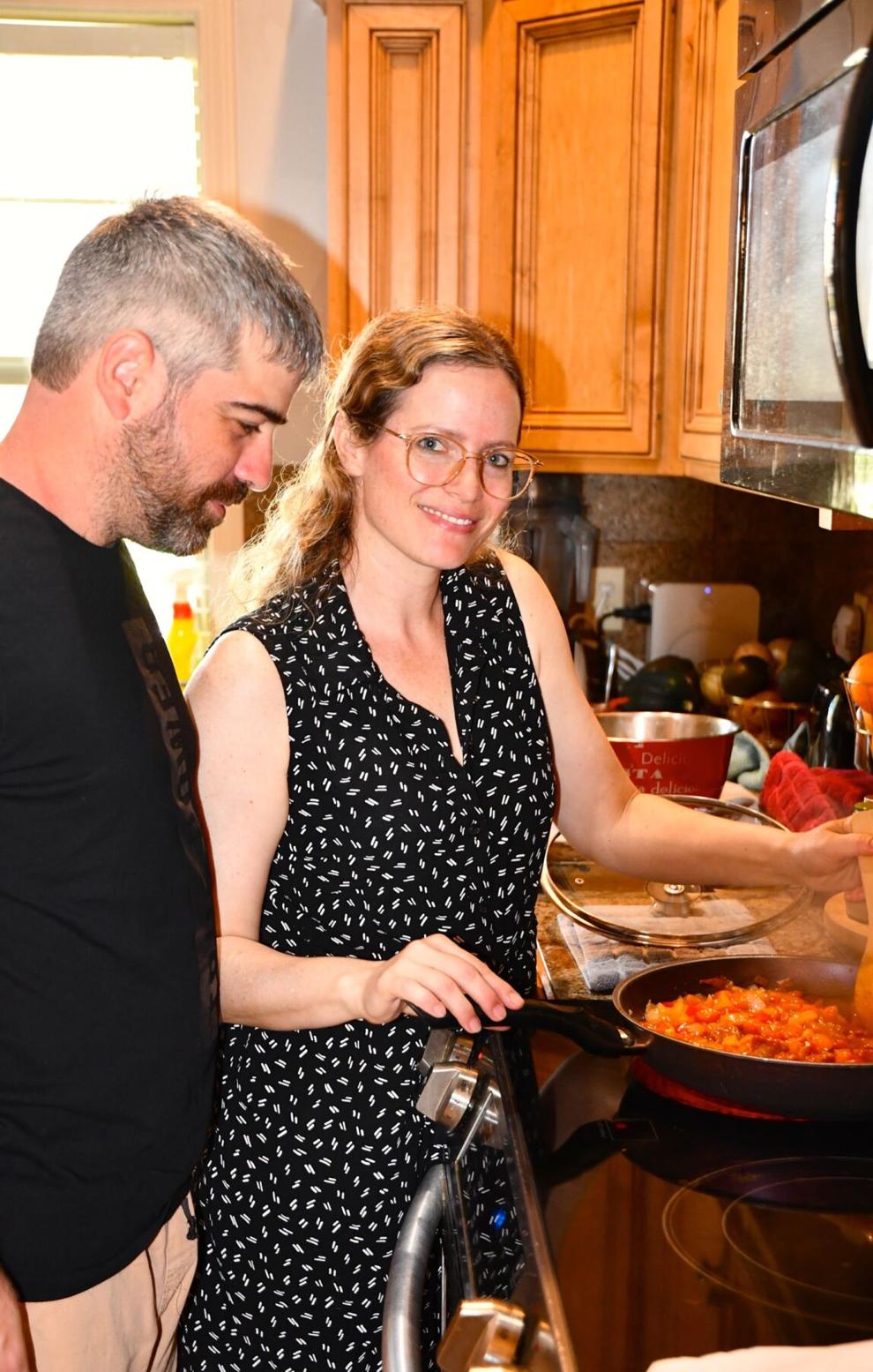 For many in Tel Aviv, Saturday is a day off.
"Shakshuka is a Saturday morning ritual at home for breakfast or snack," Borenstein said.
At home in Youngsville, shakshuka is how the Borensteins welcome the weekend as a family, even though the kids still don't like the dish. It's full of fresh vegetables and eggs – a nutritious meal and an excellent vegetarian alternative to typically meat-laden breakfasts.
After sharing the history and lore behind the dish, Borenstein went to work, with her husband, Guy, nearby to offer assistance. Children's laughter filled the background as she prepared the shakshuka and fresh pita bread. She kindly invited my children to join the experience and they had fun while we cooked.
"This recipe is all about personal choice. You can make it as spicy or sweet as you like," she said.
He added spices mostly for feel, but he's done it so many times that he could gauge a measure.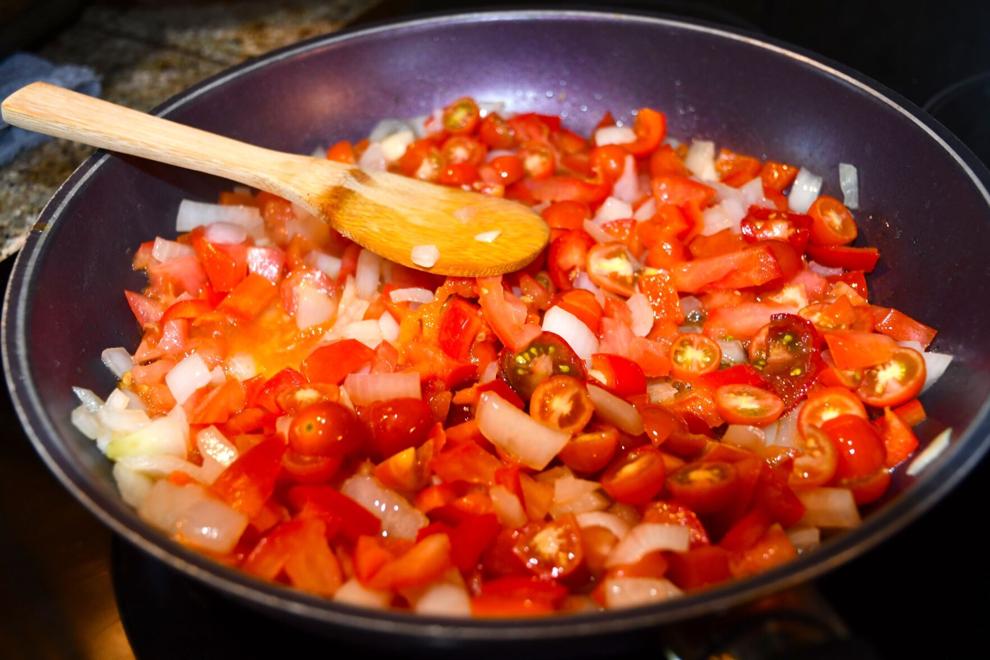 While Borenstein prepared fresh pita bread, I stirred the bright red mixture with a wooden spoon as it boiled. There is a lot of tomatoes in shakshuka. Substituted cherry tomatoes instead of using the beef tomatoes the recipe suggests. The addition of cherry tomatoes gave the dish a pleasantly surprising textural boost as the seeds were revealed in the sauce.
After stopping the pita bread, he added another spoonful of sugar to the pan.
"I love it when the sauce is sweet," Borenstein said, as she stirred the sauce and added water until it was the perfect amount of wet, watery and bubbly.
It was time to add the eggs. He made six little pockets in the sauce to warm the eggs and seasoned each egg with black pepper.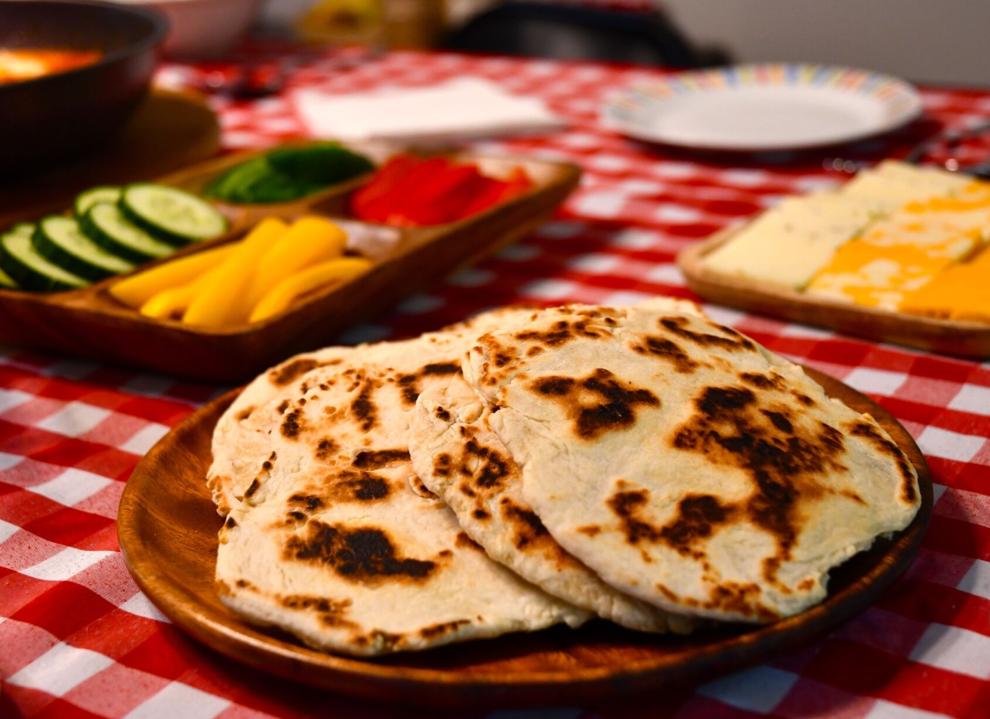 Borenstein went back to the pita and noticed that the pockets weren't forming the way she wanted. Despite this, they were perfectly fine for consumption. Traditionally, a pocket is developed in the center of the pita to hold all the fillings. However, as her husband said, "the pita is used to soak up the sauce and clean the plate."
His words proved true.
Rising steam indicated that the shakshuka was ready. Borenstein placed the pan on a butter in the center of the table. The table was filled with fresh pita, various raw vegetables, sliced ​​cheeses, cottage cheese and jam, all around the main course.
Once we were seated and served, I expected it to taste like Bolognese sauce. I had a surprise. The first bite awakened my senses with an explosion of flavor—a taste to savor, one you wish could linger. Borenstein's husband mentioned that you can "feel the love" inside the food.
Shakshuka is a culinary experience you don't want to miss and should be in everyone's recipe collection, whether you love international cuisine or not. This easy-to-make dish is sure to be a crowd pleaser.
Shakshuka
Serves 4 people. The recipe is from Liza Borenstein.
2-3 tablespoons of olive oil
1 large white onion
4-5 cloves of garlic
1 red pepper
3-4 beef fillet tomatoes
1-2 spoons of sugar
½ cup of water
1 teaspoon red pepper
½ teaspoon of salt
¼ teaspoon garlic salt
black pepper to taste
chili powder to taste
6-ounce can of tomato paste
6 eggs
cilantro or parsley to garnish
1. Finely chop the onion, garlic and pepper.
2. Heat a pan over medium heat and add olive oil. Once hot, add the onions and fry for two minutes.
3. Once the onions are soft and to your liking for garlic, add the garlic cloves to the pan and sauté.
4. Next, add the red pepper. Sauté over medium-high heat until softened.
5. Add the tomatoes and fry. Add half the sugar and another tablespoon of olive oil.
6. Pour ½ cup of water; the sauce should be watery.
7. Add spices (red pepper, salt, pepper, chili, garlic). Stir to incorporate them into the mixture.
8. Add a little more olive oil, then taste. You can add more sugar at this point.
9. Add the tomato paste, then stir well to combine.
10. The ingredients will melt in the mixture. Add more water, then cover.
11. Let the sauce cook for 15 minutes on medium heat.
12. Create six spaces in the sauce and add the eggs to warm through. Cook to desired consistency and salt to taste.
13. Once the eggs are cooked, sprinkle with cilantro or parsley and serve immediately.
Pita bread
Serves 4 people. The recipe is from Liza Borenstein.
3 cups of flour
2 teaspoons of dry yeast
1 spoonful of sugar
1 cup of warm water
1 teaspoon of salt
¼ teaspoon garlic powder
3-4 tablespoons of olive oil
1. In a mixer bowl with a hook, put flour, yeast, sugar and water and knead for 5 minutes (or by hand for 10 minutes).
2. Add salt and oil and knead for another 7 minutes until you get a slightly sticky dough.
3. Cover the bowl and let it rest for an hour until it doubles in volume.
4. Divide the dough into balls, roll them into circles and reserve them on baking paper for 5 minutes.
5. In a hot pan (without oil), fry a pita smeared with oil for 2 minutes on each side until it is lightly golden.
6. Then cover the pita with a towel to keep it warm.