Climate campaigner Extinction Rebellion has said it is temporarily stopping public disruption tactics, which have frustrated commuters and businesses for the past four years, because "very little has changed".
Hundreds of activists have been arrested after blocking traffic, locking up and taping and spray-painting buildings, but despite their efforts, XR said "very little has changed: emissions continue to rise and our planet is dying at an accelerated rate."
XR said this year it will focus on prioritizing "detention assistance and relationships over lockdowns."
In a statement, he said: "As we enter the new year, we are making a controversial resolution to temporarily move away from public disruption as our primary tactic.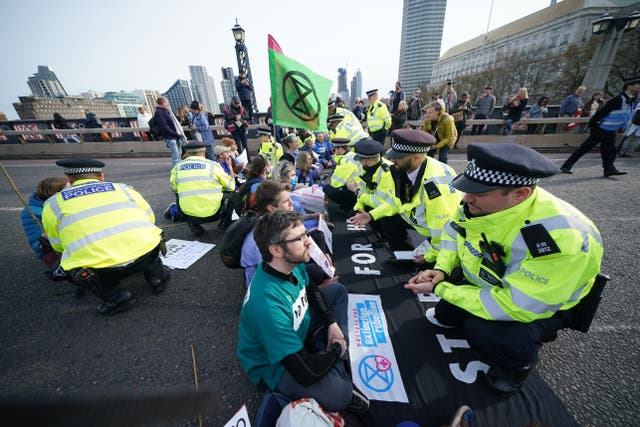 "We recognize and celebrate the power of disruption to raise the alarm and believe that ever-evolving tactics are a necessary approach.
"What is most needed now is to disrupt the abuse of power and imbalance, to achieve a transition to a just society that works together to end the fossil fuel era. Our politicians, addicted to greed and inflated by profits, will not do it without pressure.
"We must be radical in our response to this crisis and resolute in our efforts to address the climate and ecological emergency, even if that means taking a different approach than before."
XR said "prospering by building bridges is a radical act" and also called for 100,000 people to surround the Houses of Parliament on April 21.
Now he's taking the plunge because "multiple crises" have helped make this "time to seize the moment."
Activists believe issues such as the cost of living crisis and ongoing strikes can help provide "a unique opportunity to mobilize and move beyond traditional divisions".
XR hopes for cooperation between groups and movements and envisions a large protest in Westminster where people could "stay as long as they can".
In his call for people to take part in a protest in April, he said: "Surrounding the Houses of Parliament day after day in large numbers means we can leave behind the locks, glue and paint and instead show faith in a critical mass of people. to create a moment impossible to ignore."