The S&P 500 will post its third straight daily decline on Wednesday, its first losing streak since May 4, according to FactSet data, but that doesn't mean the index's "bullish breakout" is over. . It is most likely just getting started.
Even if the large-cap gauge continues to experience modest declines, the market's new bullish trend will be confirmed, according to Steve Suttmeier, technical research strategist at BofA Global Research, as long as the index doesn't fall too far below 4,200. , a level that served as a nearly impenetrable ceiling for stocks from August through early June, Suttmeier said.
"Holding the 4300-4200 areas in tentative declines would set up a bullish breakout and retracement pattern," he added in a note to clients shared with MarketWatch on Wednesday.
If the index breaks below 4,200, it could still find support around 4,100, or 4,050. The S&P 500 recently broke out of bear market territory earlier this month for the first time in a year when it closed more than 20% above its closing low of 3,577.03, dating back to Oct. 12. according to FactSet data.
The index has managed to climb nearly 14% since the start of the year thanks to the improvement of a handful of megacap technology stocks, although the rally has started to widen in recent weeks.
According to Suttmeier, the improvement in moving averages on price charts and the formation of a so-called bullish cup and handle pattern suggests that the S&P 500 is already in a bullish breakout that bodes well for more upside ahead.
Ultimately, the rally could see the S&P 500 break above 4,500 in the coming months. That would represent a significant turnaround from late last year, when only the most bullish Wall Street macro analysts expected the S&P 500 to end 2023 at 4,500 or higher.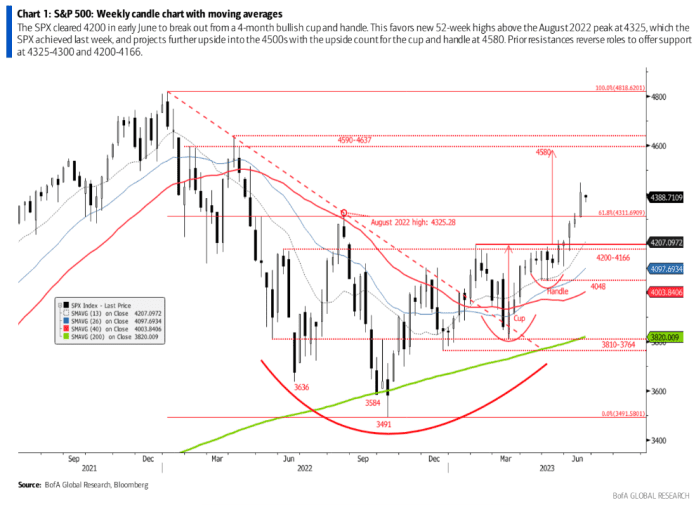 All three major indexes are headed lower on Wednesday, with the S&P 500 SPX,
-0.52%
off 0.3%, the Nasdaq Composite COMP,
-1.21%
down 0.8%, and the Dow Jones Industrial Average DJIA,
-0.30%
0.1% as Federal Reserve Chairman Jerome Powell suggested there could be two more interest rate hikes this year, according to FactSet data. All are on track for weekly losses.