Chris Eubank Jr says he "enjoyed" his loss to Liam Smith as the Brits prepare for the return on June 17.
Eubank, 33, activated his resumption clause and on Tuesday he said he was "determined" to come back stronger.
"I enjoyed it. I imagine you've been in this sport your whole career and something new happens to you, it's exciting," he said.
"A lot of guys can't come back after a big loss.
"It breaks them. It breaks their spirit, it breaks their confidence, it breaks their rhythm.
"For me, it just makes me more determined to get better, to find out why things went wrong and correct those mistakes.
"And that's exactly what will happen in the rematch."
In the co-main event in Manchester, Britain's Savannah Marshall will take on undisputed super middleweight champion Franchon Crews-Dezurn.
Marshall, 31, has not fought since losing her own grudge match against Claressa Shields in October, but she has a second chance to become the undisputed champion.
American Crews-Dezurn holds all four world titles in the division and the 35-year-old's only loss on record is to Shields in 2016.
"I was falling all over the place" – Smith
After his last ones the press conference was spoiled for homophobic taunts and taunts about class, there were no such unpleasant scenes in London this time, apart from a few isolated insults.
Eubank and Smith were fined by the British Boxing Board of Control for his previous behaviour, but this press conference was at times insightful and funny as the two fighters bounced off each other, with Smith jumping in to question a thoughtful Eubank when he could
At one point, Liverpool wondered aloud if Eubank had paid a member of the public to laugh at his jokes.
Smith took particular interest in Eubank's claim that he could have gone on and won the fight if referee Victor Loughlin had not stopped the contest after the second knockdown.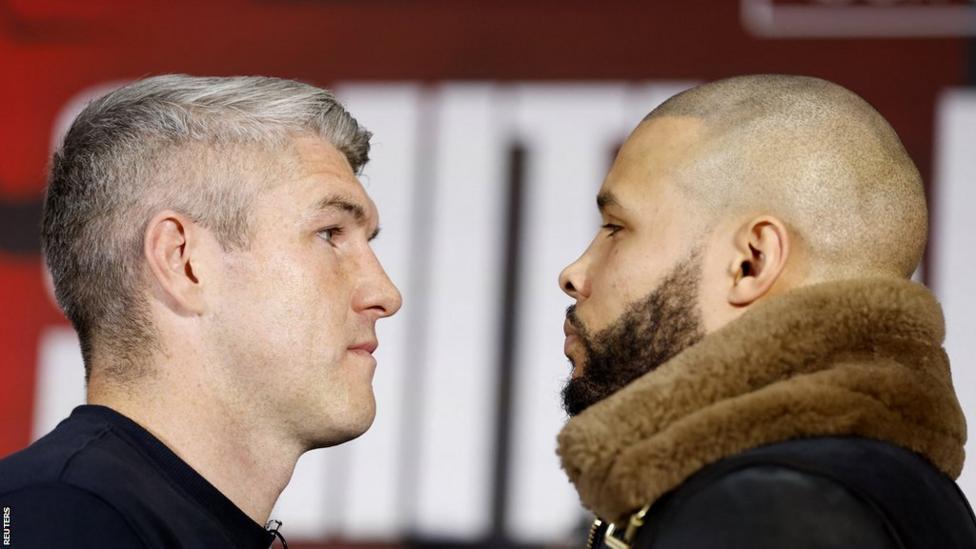 "What I regret is that I didn't give myself a chance to overcome it. I wanted to continue. I want to see if I could overcome this adversity. I feel like I was robbed of that challenge," Eubank said.
"In my opinion, he didn't stop me. The referee stopped me. In a sense, they robbed us both, they robbed him. [of the chance] to finish me off for good.
"And that could have happened. And I was robbed of a chance to get over that bad instance and maybe come back and win the fight.
"That's what the fans really want to see."
Smith replied, "You don't have to be a genius to see that it was falling all over the place."
"I'm world class" – Marshall
Marshall returns to the finals against undisputed champion Crews-Dezurn eight months after suffering the first defeat of her career and losing her WBO world title to Shields.
It was a historic night not just for Marshall, but for women's boxing as two female fighters stood out for the first time at the O2 Arena.
Marshall was himself during the press conference, quietly confident, while Crews-Dezurn provided some verbal combat for his challenger.
Crews-Dezurn said Marshall was "dogged" by Shields in their last fight, claimed she was robbed of victory in a test fight against Marshall ahead of London 2012 and suggested the Englishwoman had dodged in the past.
The American said her "life's work" was on the line against Marshall.
"When you lose, you get the babysitter," Crews-Dezurn told Marshall, looking directly at her at the top table. "You have nothing. I have everything and I will keep it."
"We're here right now and I'm telling you, June 17 is going to be a lot of fun for me," he added.
"You have a great trainer, but there are things in boxing you can't teach and I have what you can't teach."
Peter Fury, Marshall's trainer, said a rematch with Shields at middleweight was the preferred option, but an agreement could not be reached.
"It's how you come back from defeat. Not from the loss. It's what you do when everyone says you're done," he said.
Fury praised Marshall and Crews-Dezurn for making the fight happen, comparing it to the men's game where bigger fights often fall by the wayside.
Hartlepool native Marshall insisted there was no option but to enter another big fight.
"How can I go back to an eight-round game and build myself back up? I think I'm world-class and those are the types of fights I want," he said.
"I'm 32 now and I've been boxing for 21 years. If I'm not ready now, I'll never be ready.
"Time is of the essence."