Political leaders including Sir Jeffrey Donaldson and Michelle O'Neill gathered for the funeral of Northern Ireland Assembly member Alex Easton's parents in Co Down.
Mr Easton's mother and father died on Monday morning after a fire at a property in the Dellmount Park area of ​​Bangor.
Alec and Ann Easton, who were in their 80s, were treated for their injuries but both died at the scene.
Speaking at a service of thanksgiving at Bangor Abbey, Alex Easton said the emergency services would always have a place in his family's hearts for their efforts to try and save his parents.
Several politicians, including North Down MP Stephen Farry, Northern Ireland Assembly Speaker Alex Maskey and TUV leader Jim Allister also attended the funeral.
In the congregation were several members of the DUP, of which Alex Easton was formerly a member.
The two wooden coffins were placed together in front of the church for the funeral.
Opening the service, the Rector of Bangor Abbey Canon Ronnie Nesbitt welcomed those who had attended the funeral.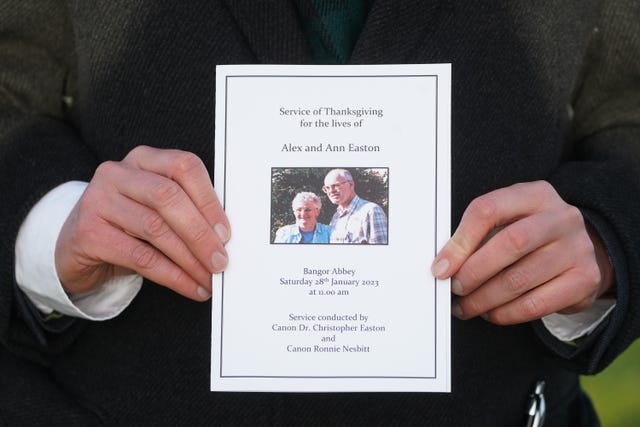 He said: "For his family, especially Chris, Lorraine and Alex, this has been a grievous loss, but perhaps made a little more bearable by your presence here today and the many expressions of love and care that have been there. receiving these last days."
Before reading a prayer, Alex Easton expressed words of thanks for those who had tried to save his parents.
He said: "I want to thank the emergency services, the PSNI, the fire brigade, for everything they have done.
"You will forever be in our hearts for what you tried to do for us.
"I want to thank my mom and dad's caregivers. I know it wasn't always easy for you.
"I want to thank everyone who sent me and my family such kind messages."
Canon Christopher Easton, the Rector of Armoy, reflected on the lives of his mother and father.
He said: "This is nothing like I ever imagined this day would be.
"Mom and Dad met and married in their late teens and have been together ever since.
"Dad had been sent by his father from South Africa, where he was born, to Belfast to Harland and Wolff on an apprenticeship as an engineer.
"Mum worked at Ulster Bank in Belfast and they literally met on the bank counter.
"It wasn't long before they fell in love and began a long and eventful journey together that has just ended.
"Or maybe, I'd rather say, that chapter has ended and another has begun for them because they believed in Jesus."
The hymns played at the service were The Lord's My Shepherd, Amazing Grace and In Christ Alone.