I don't make New Year's resolutions; there is so much wrong with me and so many things i should change i can't even begin. I am 64 years old; too late.
But I love making resolutions for other people, especially ones that aren't too difficult and can have a real impact.
So here we go, for 2023: what everyone else should be doing.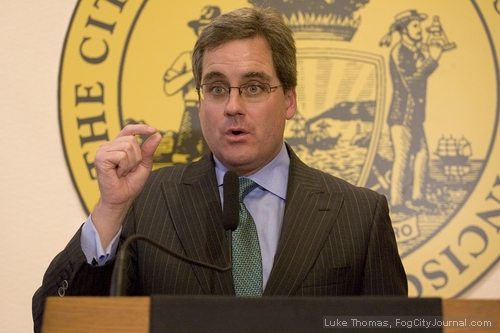 To my dear, dear dog-owning friends: There are so many of us now, since the pandemic puppy became a thing, and I love that, and I love seeing you all around town, and I just wish there were enough of us to adopt everyone the post-cubs of pando that now crowd the shelters. But people, you have to pick up your poop on the sidewalk. This shit is nasty and I'm tired of walking around.
For the Department of Parking and Traffic: I just received a group email from someone who lives in an RV, who is about to lose their home because the DMV tags are expired and the person doesn't have $300 to pay the renewal and late fees . The Police Commission is talking about ending pretext stops targeting blacks for minor traffic violations. Why can't we end the towing of expired tags? Tell me a person living in a vehicle that is not properly registered is a threat to anyone.
To my colleagues in the local media: We promise to use words that matter and mean something when we write about politics. "Progressive" is a word that's not that hard to define in San Francisco today: it describes someone who believes that, among other things, economic inequality is a defining issue in our lives, and as urban scholar Susan writes Fainstein, "equity is redistributive by definition". Progressives support high taxes on the wealthy and strict regulations on big business. Conservatives generally oppose taxes on the rich and regulations on big business, and argue that the free market will solve most problems. There are many politicians in San Francisco who fall into this camp, but we like to call them "moderates," which means nothing.
Also for my media colleagues: We do not allow politicians to escape the essential issue of housing. The state mandate, the Local Housing Element, the general rhetoric says the city needs new housing "at all levels," but that's impossible, and everything falls apart unless someone can tell us: from where the 19 billion dollars will come out. ? No one should be able to talk about the city's Housing Element or talk about affordable housing in any context without answering this question.
Oh, and all of you who helped fuel the craziness of the crime that led to Chesa Boudin's memory: I count on you to apply the exact same standard to DA Brooke Jenkins. Every violent crime that occurs in the city should be his fault; every theft incident should be his fault. Someone stepped on my Muni a few days ago; Clearly, this kind of rampant anarchy is Brooke Jenkins' fault.
Then go on a tour of the county jail and see all the people who are locked up awaiting trial, long after legal status. Maybe some innocent people saw their lives ruined. Maybe it's also Brooke Jenkins' fault.
For all center owners asking for a property tax break from the city – if your building is worth less money, you should lower your rent, right? Lower the prices and maybe small businesses and artists can move into your empty space.
For Mayor London Breed: You're running for re-election, and let me make a suggestion: The Imperial Mayor who won't talk to the media is not a good look.
For the candidate who decides to run against Breed: It can't be yours. It must be an agenda for the urban crisis we all face. In 1987, Art Agnos beat the heavily favored John Molinari by writing and distributing a book full of concrete political ideas; yes, it was a gimmick, but it was also New Ideas vs. Old Bureaucracy. The race has not even been closed.
For PUC General Manager Dennis Herrera: You turned one of the best city attorney's offices in the country into a political hack and told me that would give you a chance to work in public office. Now is your chance to do something about it. From your recent letter to the Chron:
Finally, San Francisco would have more of a say in rooftop solar and battery storage if we controlled the local power grid. That's why it's important that we pursue public power by acquiring PG&E's power grid in the city. As a public utility, we could set our own policies to achieve our clean energy goals.
Yes, indeed, and it brings in hundreds of millions a year in new revenue. But PG&E won't sell, so there's only one way that can happen: take over the system by eminent domain.
All the elements are already in place. You already have the ability to link to buy the system. All it takes is a legal filing (and yes, maybe a long battle, but there's no time like the present to start). You could order your successor, City Attorney David Chiu, to do so tomorrow. It's 2023, the 110thth anniversary of the Raker Act, which ordered public power in San Francisco. A good time to show us that you are serious and that leaving the City Attorney's Office was worth it.
For Rep. Nancy Pelosi: You've earned all the accolades, and the next two years should be a victory lap. Take it. Finish the term you were elected to and allow San Francisco a real election in 2024, not some crazy, unfair special election that would happen if you retire mid-term.
For all candidates who want to run for local office and get progressive support: read on The sum of us by Heather McGhee and A brief history of neoliberalism by David Harvey. There will be a quiz.